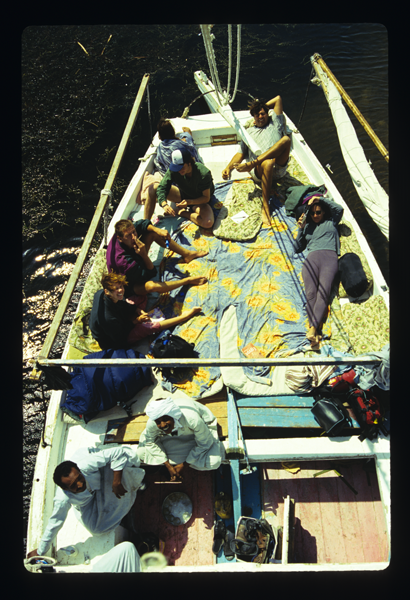 Diary Log: Egypt. April 21-May 1, 1996.
This is not written verbatim from this diary of mine but I will catch you up a bit. Shortly after our 4 wheel drive from Siwa Oasis we took a feluca trip up The Nile, the queen river herself. The Nile is a simple river for sailing because the water flows north with steady winds blowing south. Easy tacking back and forth, chill chill chill. If you get my drift. Pardon the pun. We ended up hiring 2 boatman, Captain Adel and his first mate Hassan after fierce negotiations amongst several captains who were in tough competition for our business. I got into an argument with a one Captain Salam after I told him that we would not be using his services. He simply would not take No for an answer and was haggling us for a full day so I had to straighten him out. The haggling in Aswan was a dreaded chore and probably the toughest I've ever experience, in any country. Our fee for a 3 day sail (camel meat stew included) on this 25 foot long feluca called "Mard" was a whopping £50 Egyptian pounds ($16). There were 7 of us travelers on the boat, Jonesy the German and his english gal. There was also Anita from Australia, a Dutch guy, Mark and Darlene and me.  On the 2nd day the top boom on the feluca snapped and we coasted to the western shore and it seemed that without anyone saying anything, a few Nubians came out of the weed grass and started working on the boat. And also grassing on their weed. No problem at all and by nightfall we were all jamming on some random tablas and also my copper doumbek drum that I bought in Istanbul months before. I'd been carrying two drums the whole way. We ended up creating some great rhythms together. There was a distinct difference in the drum "beat" between the Sinai Beduins and the Nile Nubians. A beautiful cultural detail. One Captian Macaroni came aboard and his mate Muhammed who sang some very enchanting Nile songs. We launched soon enough on a majestic night to make up for lost time. It was probably 2A.M. At points our trusted captain would just let us float downstream while we dreamt under the pharaonic stars. It was almost moonless night except for a little crescent hanging up there by a thread.
This next day saw us shoring up at the Temple of Kom ombo. A crocodilopolis of sort because half of the temple is dedicated to Sobek, The Crocodile God of Fertility. I loved this temple and its Sobek statues. So, after 3 days a sailing the Nile we arrived in Luxor and I instantly called one of the hot air balloon companies and inquired if they needed a pilot to fly passengers over the Valley of the Kings. I had became a commercial hot air balloon pilot and instructor four years prior to this trip in 1992. The man on the phone said no but invited me over to the office anyway. I went over with a Anita  from Australia. So we met the family and they were extremely close. I was questioned throughly about piloting, winds, maneuvers, weather in Egypt, etc ,etc  but it really became a social gathering and glasses of smoke that you could actually drink were being passed around. Seriously. Before I knew it I had a job offer to fly with a 2 year contract for $60,000 per year. What?! Right in my lap. I always wanting to study Egyptology in depth and this could be a great opportunity. However, only a week before in Cairo, Jackson and I were having a coffee in some dusty back alley cafe. While looking at the map of the world and with our  original direction pointing toward the Red Sea and onward to India we decided to flip around and head up to the Greek Islands for the summer and work in Mykonos. So what should I do? What would you do?
The family that owned the balloon company told me that they wanted to replaced their  "pompous" 25 year old Scottish pilot because he was sticking his nose into the family business. They told me to fly with him the next day but under no circumstances should I tell him that I was a pilot because he might quit right then and there. So I flew with him and he was a great pilot, but yes a little pompous. I was torn on what to do. The family seemed great but my gut was telling me otherwise and I had been in the Middle East for four (4) straight months at this point and Greece was calling. Something wasn't right. I had a few days to think about it and the decision was so hard to make. I went to Cairo and the owner of the balloon company traveled from Luxor to meet me and we hashed over details. After much debate my steady travel companion, Jackson told me to flip a coin 3 times, and 3 times I guessed wrong. No dice. A summer in Mykonos, Greece was the final choice. And it was a great choice.